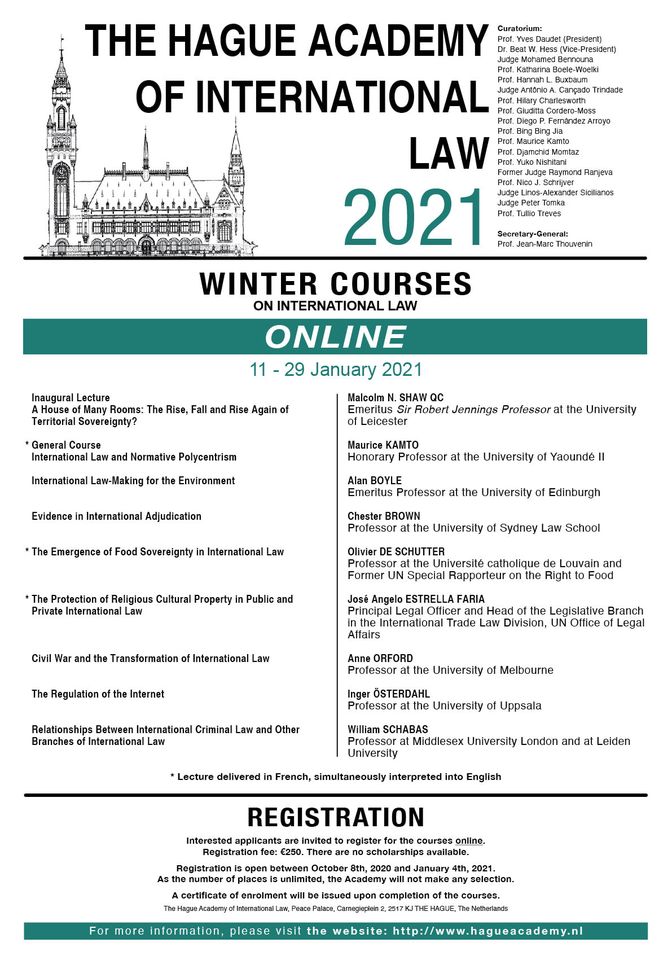 The Lutfia Rabbani Foundation is offering to sponsor the registration fees for 10 eligible candidates in International Law at The Hague Academy of International Law, a global leader in its field. Due to the COVID-19 pandemic the winter 2021 courses will be held exclusively online. Given this year's online course structure, this grant will cover all costs related to the Winter 2021 short courses to be held between January 11 – January 29, 2021. All information about the special online edition as well as the programme courses can be found HERE.
Eligible Candidates
Candidates must be graduated law students from the Arab World with a Masters or Ph.D. degree in law. Law students from the following countries are welcome to register: Algeria, Bahrain, Egypt, Iraq, Jordan, Kuwait, Lebanon, Libya, Morocco, Oman, Qatar, Saudi Arabia, Palestine, Syria, Tunisia, UAE, Yemen, or Sudan.
As the courses will be offered via Zoom, a good internet connection is essential to follow the online Winter Courses.
How to Apply and Deadline
Send your one page motivation letter in English, C.V., copy of passport and high resolution picture NO LATER THAN midnight (CET) December 4th, 2020 to scholarships@rabbanifoundation.org. Grant recipients will be informed of the Foundation's decision by December 13th.
Terms and Conditions
Once the grant is awarded, a terms and conditions form will be sent to you for signature which includes a requirement to submit a one page report to the Foundation within a month of completion of the Winter 2021 courses.
For questions please send an email to scholarships@rabbanifoundation.org.