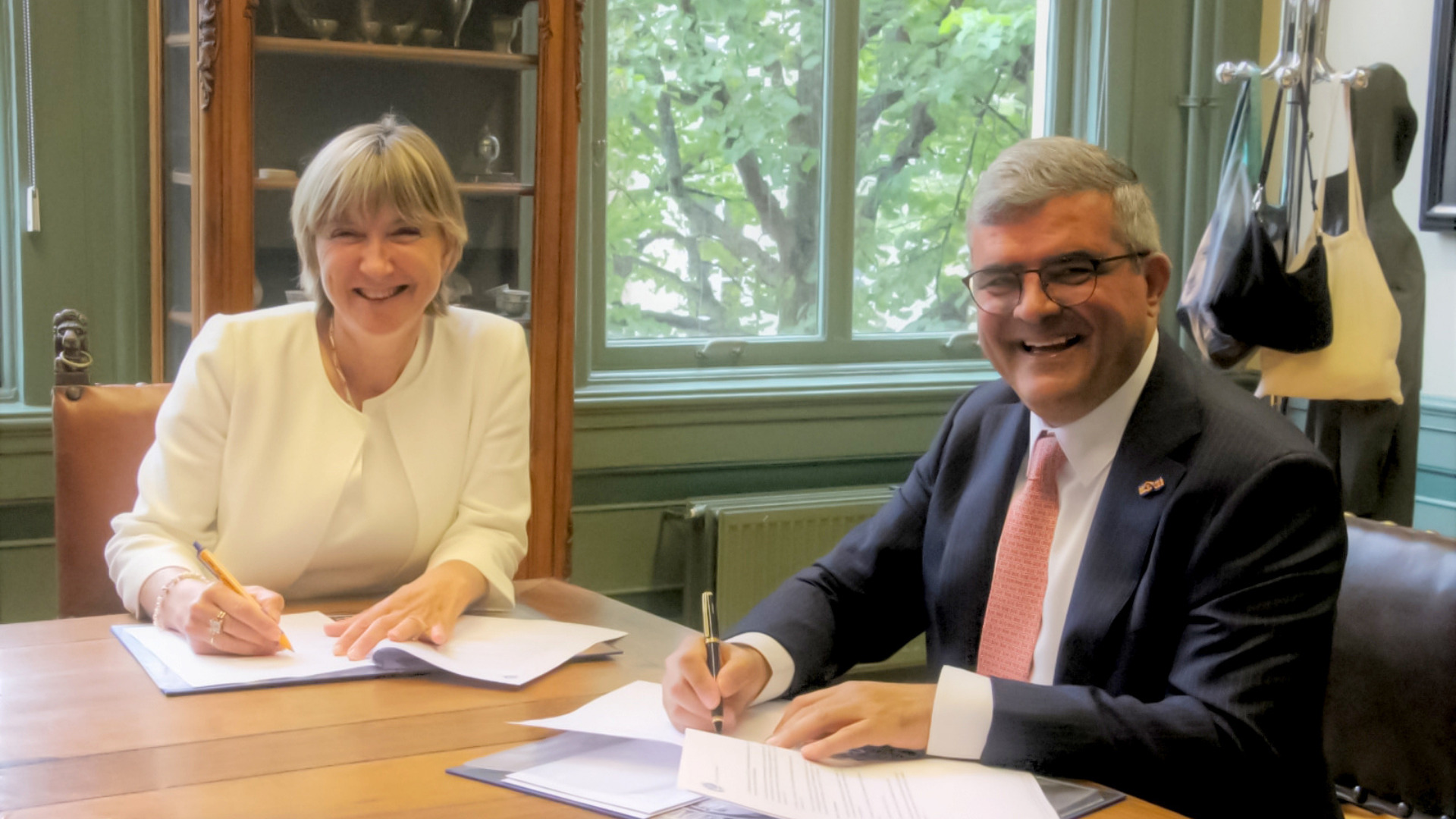 On the 15th of September 2021, the Lutfia Rabbani Foundation and Leiden University met to renew their partnership and to reiterate their cooperation in supporting exceptional talent from the MENA region. 
The matching fund, called the Leiden University Fund – Lutfia Rabbani Foundation scholarship provides a full scholarship annually to a master student from an Arab country to attend an advanced master programme at Leiden University. In addition, the scholarship recipient has access to a mentoring programme that offers guidance on a personal and professional level.  
The signing ceremony took place in the Academy Building Alumni Room, attended by Annetje Ottow, Chair of the Leiden University Executive Board, Lillian Visscher, Director of the Leiden University Fund (LUF), along with Juliette Nieuwland, Senior Development Manager LUF. Also present was Dr. Arnoud Vrolijk, Curator of Oriental Manuscripts and Printed Works for the Leiden University Library who gave a short presentation on two of the library's manuscripts related to the MENA region. 
Salim Rabbani as Chair of the Lutfia Rabbani Foundation was joined by Board Member Yonet Schroder and Programmes Associate Ayşe Mısırlıoğlu. 
Both the Lutfia Rabbani Foundation and Leiden University addressed the importance of international scholarships as an effective means to support exceptional students that have demonstrated academic excellence and who believe in the mission of promoting Euro – Arab dialogue and understanding. This belief has led to the renewal of the Leiden University Fund – Lutfia Rabbani Foundation scholarship.  
Highlighting LUF-LRF Alumni 
Faten Al Sourani, the 2020 recipient of the LUF-LRF Scholarship from Palestine, was present during the signing ceremony. Faten, along with earlier scholarship recipients, is truly representative of the scholarship's underlying goal: to inspire students with exceptional academic excellence and a strong motivation to promote Euro-Arab dialogue. Faten has successfully completed the advanced Public International Law L.L.M and an internship at the International Criminal Court in The Hague. She is currently doing an internship for Human Rights Watch.  
Applications for the LUF-LRF Scholarship open on January 1, 2022 for the new academic year. For more information on the scholarship and the application process, contact scholarships@rabbanifoundation.org or visit the Lutfia Foundation website at www.rabbanifoundation.org