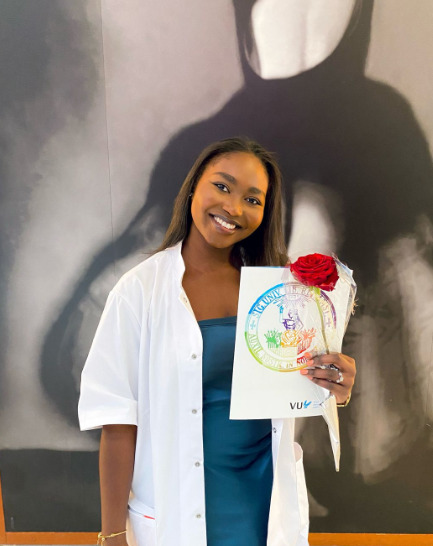 Geddah Saleh's Experience in Dubai
We are proud to share with you the experience of our Travel Grant Recipient, Geddah Saleh. We are delighted that we were able to be part of Geddah's medical internship abroad in Dubai! Would you also like to benefit from our Travel Grants? Our applications are open all year! Find out more about the application procedure and criteria here.
"I'm so glad I was able to follow my internship abroad after months of arranging and waiting for the travel advice to change. I feel that my medical knowledge has grown, my friendships have grown, and that I as a person have grown too." 
I'm Geddah and I'm currently a fourth-year medical student at the VU university in Amsterdam. During the master's, students are obligated to follow a 4 to 6 months research internship at a clinic/university of choice. The Covid pandemic didn't do me any good and I truly wanted to go abroad for a while to get a breath of fresh air.
I wanted to go to Dubai because I've been on vacation to Dubai before and I very much enjoyed it. For me, it was also important that it had to be an Arab country as I wanted to better my knowledge of the Arabic language.
I went on holiday in Dubai in 2021 and I immediately got to know my possible internship supervisor while on vacation as we already had e-mail contact before that. We discussed that I would start my internship in October of 2021 but as the travel advice was still red, I wasn't allowed to follow an internship abroad. I lost contact with my possible supervisor as I didn't think an internship would be possible anymore due to covid. After months of no contact, I suddenly got an e-mail from the secretary of the university asking if I was still interested in joining them for an internship. It felt as if it was a sign as the travel advice just turned yellow and I had been working a lot to save up some money. It was now or never so I replied that I was still very interested and that's how this journey started.
I've always lived with my parents, and I also never slept somewhere completely on my own, so I wanted to experience being on my own for some time. I was afraid I might get homesick, but everyone was so welcoming that I never felt the need to go back home. I stayed in a student accommodation which was great because I met many other students from all over.
Dubai is a very safe city for women, they have very strict rules so there is not much crime. You can take a walk on your own around midnight and no one would bother you. If you are studying somewhere, you can easily leave your laptop + personal belongings behind and no one touched them when you returned. This is what I loved the most about my time abroad because it felt as if I was in a completely new world where you as a female didn't have to look over your shoulder everywhere you were.
The university is in the 'Healthcare City' district where other hospitals are also located and the lab where I did my internship is in a separate building next door. Before I arrived in Dubai, I was very well supported by the secretariat and my internship supervisor, we had email contact almost every day. Lab working days are 8 AM-4 PM Monday-Thursday, but they aren't very strict with the timing. My supervisor wasn't strict about that either. The rule was that the time didn't matter as long as I came every day and showed results. On Fridays, the days are until noon as most people go to the mosque to pray. My internship period fell during Ramadan and because of that the working days on Monday to Thursday were until 2 o'clock, which was very nice as I had a lot of time to explore Dubai and its surroundings after my internship.
During my internship, I helped a postdoc with a study she was working on at the department of genetics. The study focused on neurodevelopmental disorders and autism spectrum disease. Even though there is a lot of knowledge about these disorders, the molecular mechanism behind them is still largely unknown. During our study, we zoomed in on one of the important genes to get a better understanding of neurodevelopmental disorders that will be essential for potential therapeutic targeting in the future. The study isn't finished but I will continue working on it from home. I'm very glad that I did this internship because I've learned way more than I expected. Before this internship, I didn't know much about genetics, and I wanted to learn more about this to broaden my knowledge and not necessarily because genetics interests me that much. Thanks to this internship I got a different view on genetics and because of that, genetics is now one of my top interests in the medical field.
I had the best time in the lab with my colleagues. I noticed that everyone wanted me to learn things which I very much appreciated. For example, if someone was doing a fun experiment in the lab, I was immediately asked if I wanted to watch. I was seen as a full team member and not just an intern. I was invited to conferences, and school gala's and often did fun things with my colleagues outside of the internship. I met a lot of amazing people, and you can say I made friends for life.
The highlight of my entire stay was when I took a trip to Abu Dhabi for 2 days during the Eid holidays. On the first day, I went to Saadiyat Island which has one of the most stunning beaches in the UAE. It had crystal clear waters with a lot of beautiful fish. After the beach, I went to the Louvre which is also located on Saadiyat Island. The Louvre in Abu Dhabi is a project of the Louvre in Paris and is the most visited museum in the Arab world. There are not enough words to describe how beautiful the Louvre in Abu Dhabi was. Compared to the Louvre in Paris this one was very open and bright with an indoors-outdoors ambiance. People might attack me for this, but I think the Louvre in Abu Dhabi was way more beautiful and had more diverse artwork than the one in Paris.
On the second day, I booked a tour through Abu Dhabi to discover several places in a short time. We started the tour at the Sheikh Zayed Grand Mosque which is the biggest mosque in the UAE, and it was in one word stunning. After that, we went to a heritage village to learn more about the old Bedouin tribe and culture. At last, we drove around Abu Dhabi for sightseeing and stopped at a dates market where we could taste tons of different dates.
I'm so glad I was able to follow my internship abroad after months of arranging and waiting for the travel advice to change. I feel that my medical knowledge has grown, my friendships have grown, and that I as a person have grown too.