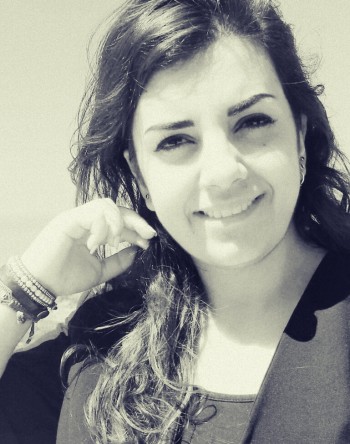 I am a Syrian woman from a very beautiful and historical town called Shahba. It was built by the Roman emperor Philip the Arabic as a typical roman city and was named after his mother. In the seventeen years I lived there, I never really got to know how great the town was: all I saw was the mixture of the neglected black ruins and the random houses spread in such a way that the true identity of the town was lost.
I hadn't realized just how neglected my town was until I started studying architecture in Aleppo. It wasn't the courses I took so much as living in the great historical city and spending time in its castle, old souks and khans that caused this realization. Shahba has almost the same historical value as old Aleppo, but its long history of marginalization has made it an unfortunately poor and forgotten place.
I graduated from the architectural faculty of Aleppo as one of the top twenty in my class, just 2,2 marks behind the first rated student.
However, I didn't feel ready to begin a career. Instead, I began a master program in urban and environmental studies at Damascus University and taught urban and regional planning under supervision of my master's professors. By that time, the Syrian revolution had already begun and many problems related to my political opinions expressed peacefully outside the campus led me away from teaching. My relations with many of my professors and administrators, who had very different attitudes than mine caused my Master to be put on hold.
Back home, the numbers of the internally displaced people (IDP) arriving in my province was growing rapidly. As there were not many prepared shelters for the IDPs, many of the families in my town shared their accommodation with them. I hosted families from Homs, Dara'a, various Damascus suburbs, Aleppo and Al-Raqqa in my home as the situation deteriorated. The people I hosted were often of different religious persuasions and held opposing political views, but they all shared the fact that they had lost their homes. The experience of living with the IDPs was much deeper than dealing with them in shelters. Within my own home, it was all about living as a part of the great tragedy they had been through and sharing the memories and stories of their own homes.
One of the Homsi people who stayed with me was an elderly divorced lady called "Om Mazen". This lady had moved to her apartment only few months before the revolution started. She, as many others, spent the duration of the day watching TV hoping to get information about her neighborhood and the building she had lived in. She, knowing that I studied architecture, kept asking me whether she would be paid back for her damaged apartment or if any investors would reconstruct the area and give her back her apartment. She even asked very specific questions about the new plans for these collapsed cities, and whether they would be rebuilt exactly the way they were or would be changed for any reason.
Her questions were very difficult for me to answer. I could only reassure her that she would certainly be paid back somehow, but I couldn't go further in detail.
Nowadays, the United Nations reported that the number of refugees from Syria has surpassed 2.5 million. IDPs are now more than 6.5 million. Combined, the numbers of refugees and IDPs states that almost half of the Syrian population is now out of their homes. Each one of these millions has his own dreams and memories. Each one of them has the same questions that Om Mazen used to ask, and most of them get no answers.
Now that I am going to be attending the MA programme of Urban Management and Development at Erasmus University, Rotterdam, everything comes to my mind at once. My neglected town, the destroyed Aleppo, Om Mazen, and the 9 million displaced people who are waiting for our answers and actions. And as the country has turned into a battlefield with a massive destruction in all its structure, I definitely owe it all of my efforts and energy. I owe it my whole future so that I can tell my grandchildren that we, the Syrian people, started a revolution to build the new Syria. We were faced with the most barbaric weapons: the whole country collapsed, but we were the ones to build it up again.