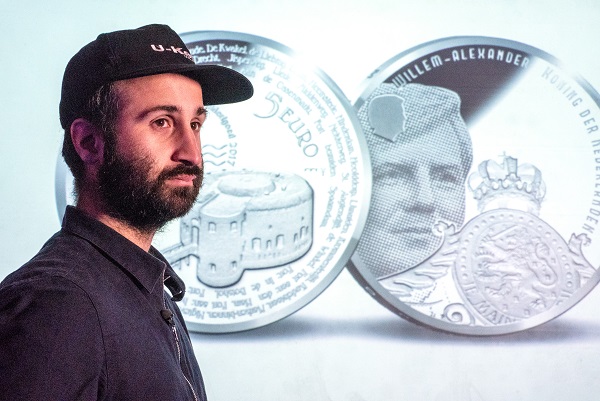 "The film platform and the Sharjah itself re-invigorated key questions in my practice, questions I hope to develop in my work and take back to Sharjah in the next Sharjah Film Platform.

Kianoosh Motallebi

2019 Lutfia Rabbani Travel Scholar
Kianoosh Motallebi received his BA in fine art at the Royal Academy in The Hague and completed his Master in Arts at the Slade School of Fine Art in London. Motallebi worked as an Artist in Residence at the Rijksakademie van Beeldende Kunsten in Amsterdam and at A Very Real Time in Cape Town. His exhibitions have been displayed at (among others) the Todays Art Festival (The Hague), Sala Rekalde (Bilbao), Erased Walls (Berlin), Juming Museum (Taipei) and Barbara Seiler (Zürich).
In January 2019, Kianoosh Motallebi received a travel grant to attend the presentation of his film "Kings and Thieves" at the Sharjah Art Platforms Film Festival. He shares with us his experience in Saharjah:
" This was the first time I showed work in an art film context.  Actively taking part in the program was not only a new context for my work, but it also facilitated seeing my practice through a new lens. The festival represented a diverse cross-section of contemporary international film from all continents, with emphasis on the Eastern hemisphere. Having spent time with makers from Saudi Arabia, Beirut, Palestine, Egypt, Nepal, India, and the Philippines I witnessed nuances and antagonisms in relation to global canons, both in terms of subject matter and expressive form.  In the lecture series, artistic approaches to both regional and global issues were scrutinised in thematically focused talks. During Documentary Expanded Nicolas Feodoro moderated a discussion about the potential for a documentary to enhance the perception of reality and delved into the relationship between still and moving images. To this effect, the works of Lara Lee were also particularly illuminating. She is an inspirational maker whose work oscillates between activism and documentary film. Her work demonstrates the potential for moving image to not only to expose the context they are depicting but to use dramatic means to create a consensus for opposition against injustice.  A completely different approach is taken in the work of Kamal Aljafari and Raya Martin. In their talk "states of emergence," they discussed a long term project in which they juxtapose Native American reservations with occupied Palestinian territories and current refugee sites in Lebanon. In the third and final talks program titled Ethnographic Entanglements artists Basir Mahmood, Minia Biabiany and filmmaker Laura Huertas Millan discussed their relation to postcolonial discourse and the entanglement of western practices in colonial history.
Although the intensive talks program was both inspirational and provocative, I found the main discursive quality of the Sharjah film platform flourished 'outside' of the programming, in the alleys, coffee shops and streets of Sharjah. Whilst exploring the city, in the company of makers I had only recently met, the topics unearthed during the talks and in the films we saw during screenings, became points of departure for tangential discussions about our own work. Sharjah served as a constantly renewing backdrop. The urban environment of the city is a unique mélange of experiences; commerce and leisure that meet in a way I have never experienced. The hotel resort where we were staying is right next to a floating oil platform in construction. This might be an extreme cliché representation of a state 'emerged' from oil, but it also illustrates a certain paradoxical quality to the encounters I have had in this unique place. As in the other Emirates States, the Emiratis are a minority, the vast majority of the population is 'non-native'. There is a constant form of otherness that is contrasted by governmental representation, a predominantly South Asian labour force and a Western scene of expats. This translates into a particular urban texture. The art foundation itself is located in a medieval enclave, a romantic and tranquil retreat surrounded by unforgiving concrete and traffic on one side and the alien expanse of a harbour on the other.
The rhythms of the city are incredibly diverse, changing as you navigate through its geography. The only clear constant in this wonderfully diverse place is made evident through a phenomenon that silently permeates the entire city.   Wind carrying sand quietly deposits in thin layers on all things in its path. The dusty windshields of parked cars near the hotel constantly reminded me of this slow process that has remained unchanged throughout time on this coastal land. To keep ones SUV perfectly black and shiny must take routine effort in a battle between human notions of perfection and the constant forces of wind and sand.
The film platform and the Sharjah itself re-invigorated key questions in my practice, questions I hope to develop in my work and take back to Sharjah in the next Sharjah Film Platform.  How the past is made evident in the present? What forms, sounds and flavors carry time with them, opening up the mind's eye to other times, temporalities and lives? Looking to the future I shall be dealing with these questions in moving image works set in urban environments that utilise temporal and historical connotations of objects, architecture, and nature to speak of time as a non-linear and emerging experience.
Photo by Rien de Jager.