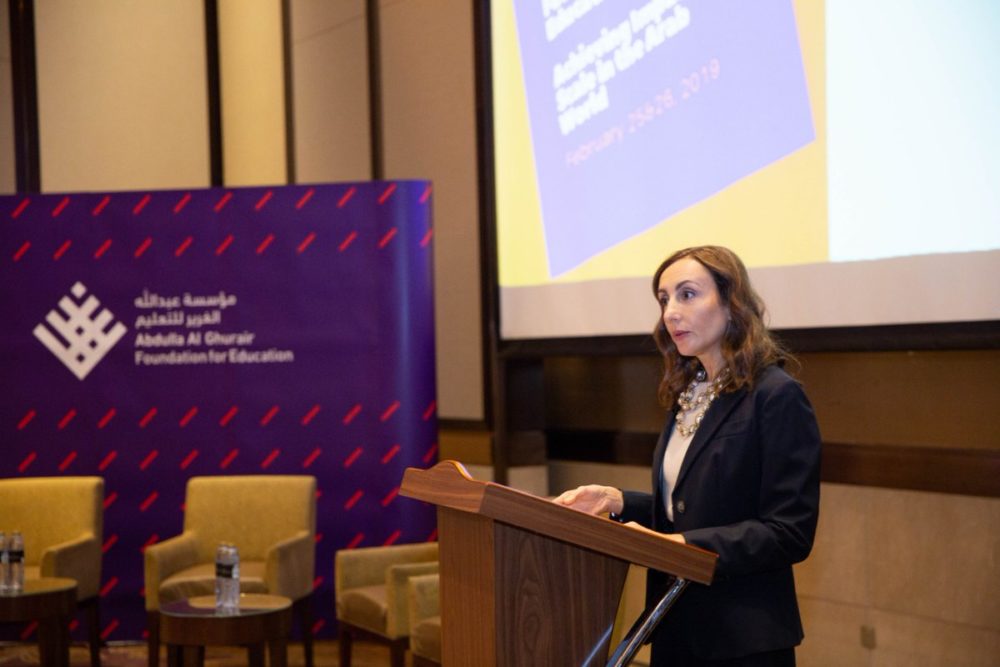 In line with Lutfia Rabbani's dedication to strengthening educational exchange between Europe and the Arab World, the Foundation was delighted to participate in the Abdulla Al Ghurair Foundation for Education's Forum on the Future of Higher Education & Achieving Impact at Scale in the Arab World, hosted in Dubai on the 25th and 26th of February. The Lutfia Rabbani Foundation was represented by its Director, Dr. Heba El-Kholy.
The Forum brought together representatives from international and regional NGO's, universities, Foundations, and UNHCR Education to explore future educational opportunities in the Arab World. The Forum explored questions surrounding the accessibility to quality education for the most disadvantaged as well as the future of educational institutions in establishing and maintaining inclusive and innovative higher education in the region.
The Lutfia Rabbani Foundation believes in the power of higher education in supporting Arab youth and views educational exchange as an important factor in consolidating cultural dialogue and mutual understanding between Europe and the Arab region.  As AGFE's CEO, Maysa Jalbout, stressed in her speech during the Forum, this discussion comes at a time in which regional and international organization share a common belief in the potential of higher education to transform the life of Arab youth and the need to scale up attempts to improve access to education for marginalized youth groups.
Youth ambassadors also highlighted their own expectations and hopes when it comes to the future of education through short videos in a segment titled 'Youth Voice'. Moreover, Ms. Nesma Farahat, the Program Manager at AGFE, presented the Young Thinkers Program, which has recently been launched by AGFE as a university and career readiness digital platform. The Program does not only embody the mission of many Foundations in supporting Arab youth in a new and innovative way, but is more specifically an attempt to raise awareness of higher education and career options available to Emirati youth through the use of a technology-based program. As such, the Program exemplifies an opportunity for the youth to make well-informed decisions about their educational future through using a digital platform that enables them to develop their skills through courses, interactive quizzes, and coaching. In order to highlight the importance of youth engagement, participants also had the chance to engage in 'deep dive discussions' pertaining to refugee education, scholarship opportunities, and online and blended education models as a form of scalable action to assist refugee students.