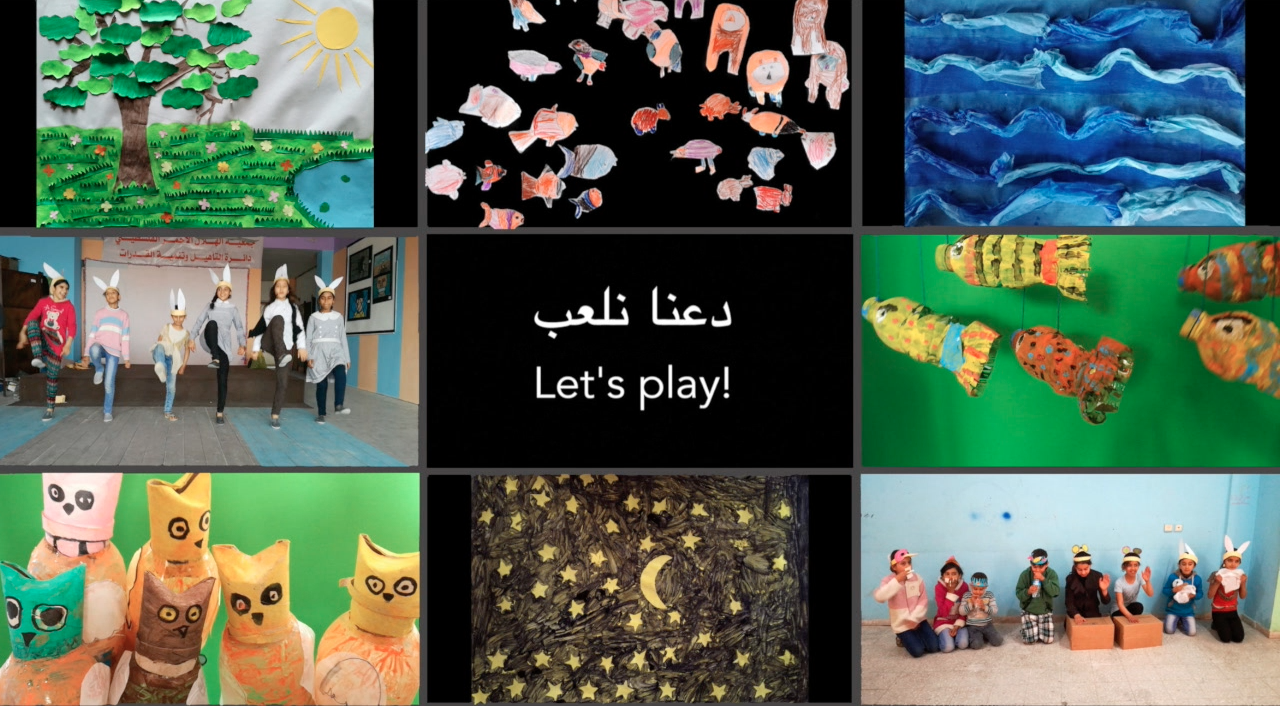 As a Dutch, interdisciplinary artist with a close connection to the Middle East I was asked by the HOPE foundation to start a new project in the "Open Studio" in the Gaza Strip. With the support from The Rabbani Foundation I could work in Gaza for two months to realize the start of Project Making and Sharing.
The HOPE Foundation has been founded 20 years ago when they started the 'Open Studio' in Khan Yunis in the Gaza Strip. There, they have been using art and culture to encourage traumatized children (including children with disabilities) to build a meaningful life for themselves.
After working with many artists over the course of these 20 years, now a lot of skills and experience is present in the Open Studio. The HOPE foundation thought it was time to spread this knowledge to encourage refugee children all over the world to keep playing and to think creative.
To reach this ambitious goal I worked with the children from the Open Studio to create a special film. This film tells a story that is based on the lives of these children and every little thing you could see in this film was also made by them. By using different techniques and waste materials they created all the visuals for the different scenes. There were bear-marionettes made from plastic bags, fishes made from water bottles, and they only needed their body to dance the traditional Palestinian Dabka. But this film is not just a fun film to watch. It will also include a "how to" movie for each of the visuals it includes. So if a child, anywhere in the world, would see this film and would
like to know how to make a fish out of a plastic bottle, this film will direct him to a page where he will find the instructions. You could describe this film as a book full of activities. Every scene of the film is a new page with instructions on how to make or do something.
In realizing this project there was one main problem. The language. Because Gaza has been almost completely cut off from the outside world for more than a decade, most people have lost the ability to speak English. Thus, the only way to communicate, especially with the children, was in Arabic.
The support from the Rabbani Foundation made a great difference in minimizing this problem. Because of their sponsoring I could take intensive Arabic classes during my whole stay in Khan Yunis. The University of Khan Yunis organized for a teacher to work with me three times per week. This helped me to regain the Arabic I had studied many years ago and to build on that to further expand my language skills. In the last weeks of my stay this even made me capable of giving classes without any translator. Both the work and my stay became more easy with every week of classes that passed.
In the Open Studio I was also confronted with an incredible amount of deaf children (which is caused by the nearby sound of dropping bombs and by intrafamilial marriages). This made me decide to start learning the Arabic sign language. You can't believe the smiles on these kids's faces when they realise they can communicate with you.
Even the unfinished film has already gotten incredibly positive reactions. It promises a bright future for this project.
While we are putting the last hand on this film, we are already planning my next trip to Gaza. Even though the situation in this region is quickly deteriorating and the tensions are rising, we wish deeply that more violence can be diverted and that sometime soon Gaza will have the peace they need to really move forward again. In the mean time I keep studying Arabic and sign language because it will give me the tools to reach out to these children and use the arts to activate their imagination, sharpen their minds and heal their hearts. Together with them project Making and Sharing will become something that can inspire children with similar stories anywhere in the world.
Hereby I like to thank The Rabbani Foundation from the bottom of my heart for their support. It really meant a lot to me, to the children and the team of the Open Studio and the HOPE Foundation.
If you would like to partner with us as well, please contact us via info@rabbanifoundation.org