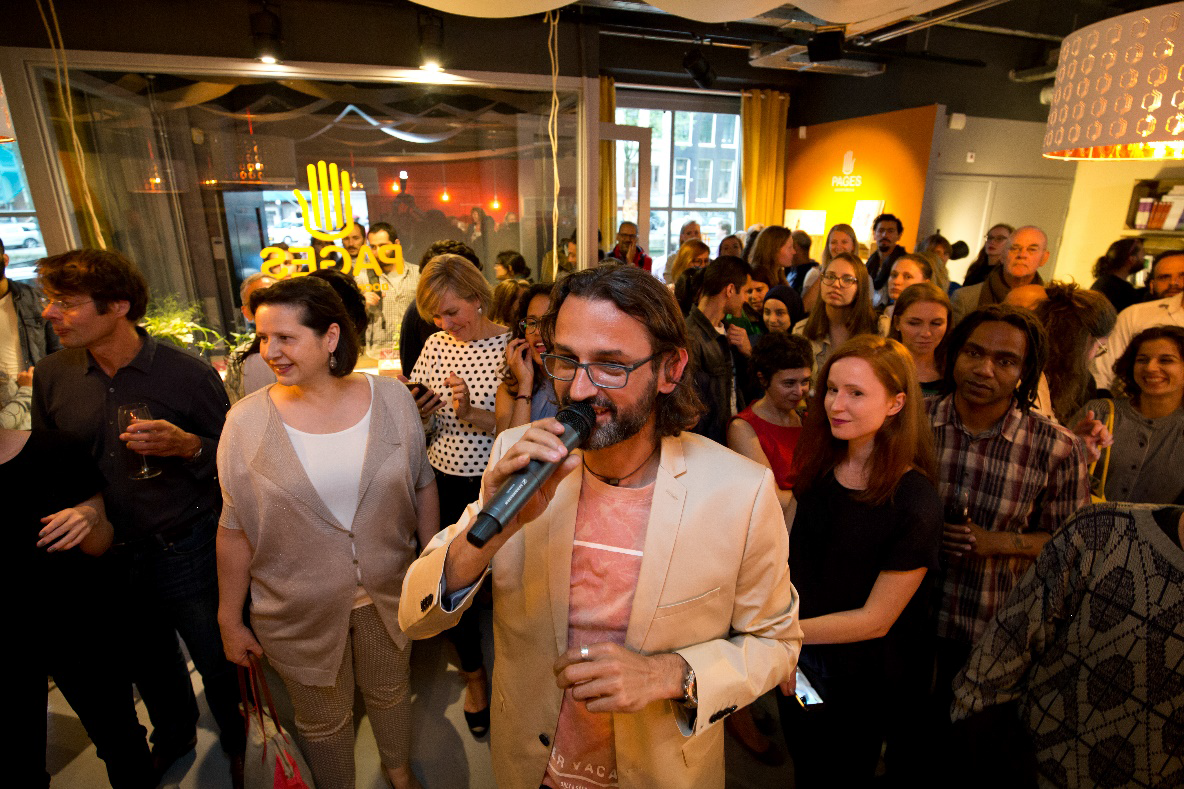 2017 saw the launch of the Pop-Up location of Pages Bookstore at the Prince Claus Fund Gallery in Amsterdam from until the 28th of October 2017. Pages bookstore is an initiative by Samer Al-Kadri, a Syrian artist and publisher who left his home country in 2013 as a refugee to Istanbul, Turkey. In Istanbul, Samer and his wife co-founded Pages Bookstore Café as a place in which Syrian culture can be celebrated and shared with the rest of the world in a way of highlighting stories beyond those of war and conflict. The store offered a broad collection of Arabic books and their translations and brought together various musicians, artists, writers, students, and poets from around the world. Due to this international atmosphere the initiative attracted worldwide media attention.
With the support of the Lutfia Rabbani Foundation, the Pop-Up in Amsterdam opened its doors not only to customers looking to buy Arabic books, but it also established itself as a cross-cultural platform where people from various countries and cultures came together for exchange and dialogue. By organising creative workshops, music nights, literary events, language courses and exhibitions Pages Amsterdam grew into a well-known and valued meeting space where open dialogue was welcomed and encouraged.
Pages initiated a diverse activity programme which included the recurring Talking Books events welcoming Syrian and Dutch writers to discuss literature, poetry and life as authors, the Storytelling Nights filling Pages with stories from all over the world and various exhibitions showing Syrian cartoons, Arabic paintings and Iranian photography to a diverse audience.
The store was happy to welcome visitors from all over the world, which is also visible in the Pages guestbook filled with responses in Arabic, Dutch, English, French and Hebrew thanks to the cultural diversity of Amsterdam and the Arabic-speaking community in the Netherlands. The estimated number of 7.000 visitors visited the pop-up bookstore and its activities at the Prince Claus Fund Gallery in just 5 months and with over 2.500 followers on Facebook, Pages Bookstore Café Amsterdam gained extensive digital popularity and exposure. Pages was covered by several international news outlets such as Forbes Magazine, Middle East Eye and Stratfor and Dutch outlets such as De Volkskrant, Trouw, Het Parool and Koffietijd. This publicity has contributed to the reopening of a Pop-Up Pages at the Goethe Institute in Rotterdam in 2018 until and has sparked interest for a potential Pages The Hague and Pages Berlin. Today, the Istanbul location remains the permanent and head location of Pages Bookstore.
The Lutfia Rabbani Foundation is delighted to have been part of this intercultural initiative offering a platform for cultural exchange and dialogue and reminding us that literature and storytelling is a powerful and necessary connector between people from different cultures and backgrounds. On World Book Day we celebrate this initiative as a shining example of 'connecting through reading' and hope to be part of similar initiatives in the future.
""We are Syrian. We have culture. We lost everything, but we have our culture. Culture gives us the opportunity to know each other before we judge each other."

– Founder of Pages Bookstore Café Samer Al-Kadri