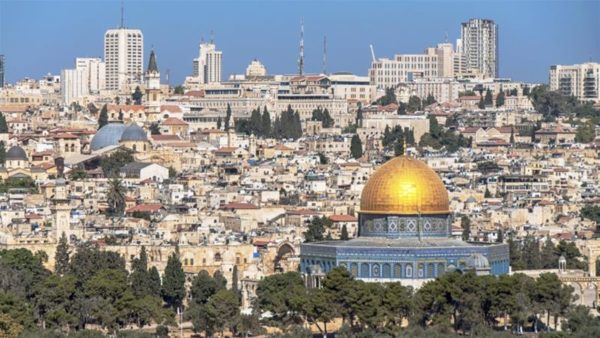 Haya Omari is one of the Lutfia Rabbani's 2018 MSR scholars. Before starting her master's program in International Law at Leiden University this coming Fall, Haya is spending her summer holidays in Jerusalem.
Take a digital journey to Haya's hometown and discover this wonderful city…
A holy city for Muslims, Christians, and Jews, Jerusalem is one of the oldest inhabited cities in the world. It has over 2,000 archaeological sites, over 70 Arts and Culture centers, and more than 60 museums.
The Old City is home to several sites of key religious importance: the Temple Mount and Western Wall for Jews, the Church of the Holy Sepulchre for Christians and the Dome of the Rock and al-Aqsa Mosque for Muslims. It was added to the UNESCO World Heritage Site List in 1981. In the present day, Jerusalem is divided into four different quarters: The Muslim Quarter, the Jewish Quarter, the Armenian Quarter, and the Christian Quarter.
The market (souk in Arabic) is a traditional Jerusalem landmark, serving as a vibrant mercantile center of the city since the Ottoman Era and up until today. There local products, crafts, and souvenirs can be found in the hundreds of shops sprawling along numerous alleys within the Old City walls.
The Dome of the Rock is located on the Temple Mount in the Old City of Jerusalem and was built in 688-691 by Abd El-Malik, an important Muslim ruler.  and it is believed to be on the location where Prophet Mohammad ascended to heaven. The site is also holy for Jews and Christians, as the Temple Mount is indicated as the place where Abraham prepared the sacrifice of his son Isaac.
The construction is the oldest Islamic monument still standing today and although its architectural style is Byzantine, the Dome of the Rock has deeply influenced Islamic architecture and aesthetics.