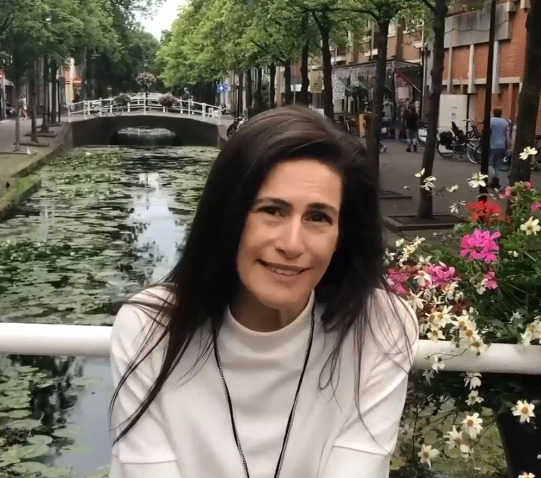 Click here to find out more about Abeer Al Momani's scholarship experience in Delft! Would you also like to benefit from our MSR scholar? Find out more about the application procedure and criteria here 
"what LRF is offering in this scholarship program is truly impressive."
Abeer Almomani is a Jordan national who was funded in 2021 by the MSR Scholarship in order to complete her 5th year of PhD at the IHE Delft Institute for Water Education.
Do you want to know more about what being a Lutfia Rabbani Foundation Scholar entails? You can listen to the remarks by Abeer Almomani, 2021 MSR Scholar on the right.
Abeer gave this touching remarks during the MoU signing ceremony with the IHE Delft Institute for Water Education. She is from Jordan, and she was awarded an MSR Scholarship which helped her fund her 5th year of PhD at IHE. She is an exceptional scholar who overcame the academic and personal obstacles she faced. She is a strong and empowered Arab woman, and the Foundation is proud to support her in her journey and have her be part of our Alumni family.
We are sincerely touched by her words and hope they give you an idea of what to expect if you become a Scholar. We provide a mentorship programme and access to our wide network to all of our Scholars, and we work hard to ensure they have a good and successful experience during their studies in the Netherlands.
I'm very happy about my choice of IHE-Delft as an academic institute and the choice of Citizen Science as a topic for my PhD research. What I like about the academic approach at IHE is that it is science based but anchored in professional practice thus providing students with both theoretical knowledge and transferrable skills.  
What I particularly like about my PhD research is that it is embedded in a real-life project implemented by IHE (The Ground Truth 2.0 Project https://gt20.eu/) this gave me the opportunity not just to carry out an academic research but to be part of the project implementing team.  
I'm extremely satisfied with this scholarship, it possible for me to continue my research and achieve my goal and I'm deeply grateful for that. I believe that MSR is an exceptional scholarship program because it goes beyond financial support to provide us -the scholars- with a whole range of forms of support starting from the mentorship program, engaging us in cultural activities down to the kind and warm emails updating us of the COVID regulations in the Netherlands. I feel privileged to be MSR scholar and a member of Rabbani's family.