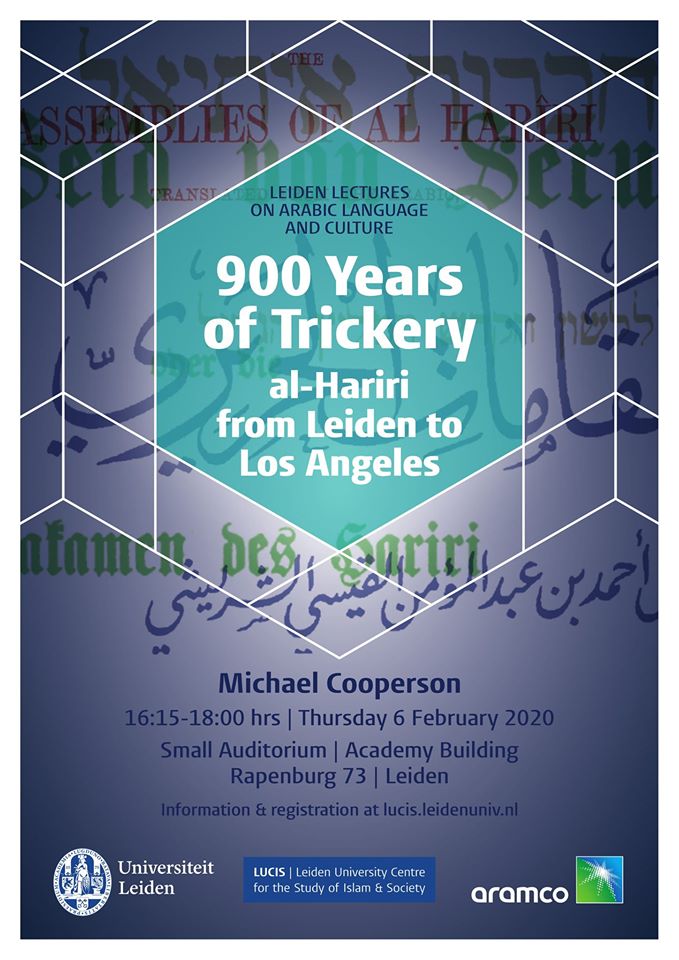 On February 6th  LUCIS will organize a lecture within the Leiden Lectures on Arabic Language and Culture series. This lecture is titled "900 Years Of Trickery: al-Hariri from Leiden to Los Angeles" delivered by Professor of Arabic and UCLA scholar Michael Cooperson.
Date: Thursday 6 February 2020

Time: 

Explanation: Free tickets available, seats are limited

Room: Small Auditorium
The most popular work of fiction in Arabic is, or was, the Maqamat of al-Hariri (d. 1122).  Though introduced early to Europe by the Dutch Orientalists Jacobus Golius and Albert Schultens, it has never been very popular in Western languages.  The main reason is the "incessant word- and sound-play, rhymed prose, over-the-top images, and hairsplitting, overwrought expressions," as Friedrich Rückert, who translated much of the work into German, put it.  Rückert was brave:  most European scholars felt that it was simply untranslatable.  Even the title resists transmission:  in English, the stories are 'Assemblies'; in French, séances; and in German, Verwandlungen.  Perhaps the best word to describe them is freakish.  But the theme of "seeking a word," which is what the narrator claims to be doing, is familiar from late-antique Christianity.  Moreover, the verbal games have a close parallel in the antics of OuLiPo, the mid-twentieth-century French literary collective.  The most recent translation, which happens to be in English, imitates the methods of the earlier Hebrew and German renderings to produce a trans-culturation of al-Hariri's freakish masterpiece.  The audience is invited to decide how well this attempt has succeeded.
About Michael Cooperson:
Michael Cooperson (PhD Harvard 1994) is professor of Arabic at the University of California, Los Angeles, where he teaches Arabic literature from the pre-Islamic period to the nineteenth century as well as courses on translation from Arabic to English.  He has published two monographs on early Abbasid cultural history: Classical Arabic Biography (2000) and Al-Ma'mun (2005).  His translations from Arabic include The Life of Ibn Hanbal, by Ibn al-Jawz? (NYU Press 2017), which won the Sheikh Hamad Prize for Translation and International Understanding; and al-Hariri's Impostures (forthcoming from NYU Press).  He supervises the UCLA Subtitle Project, which trains students to produce English captions for culturally significant Arabic-language videos.  His other research interests include Maltese language and culture.  His study of Arabic sources for medieval Maltese history received the 2016 Malta Historical Society Publication Award for Established Authors.