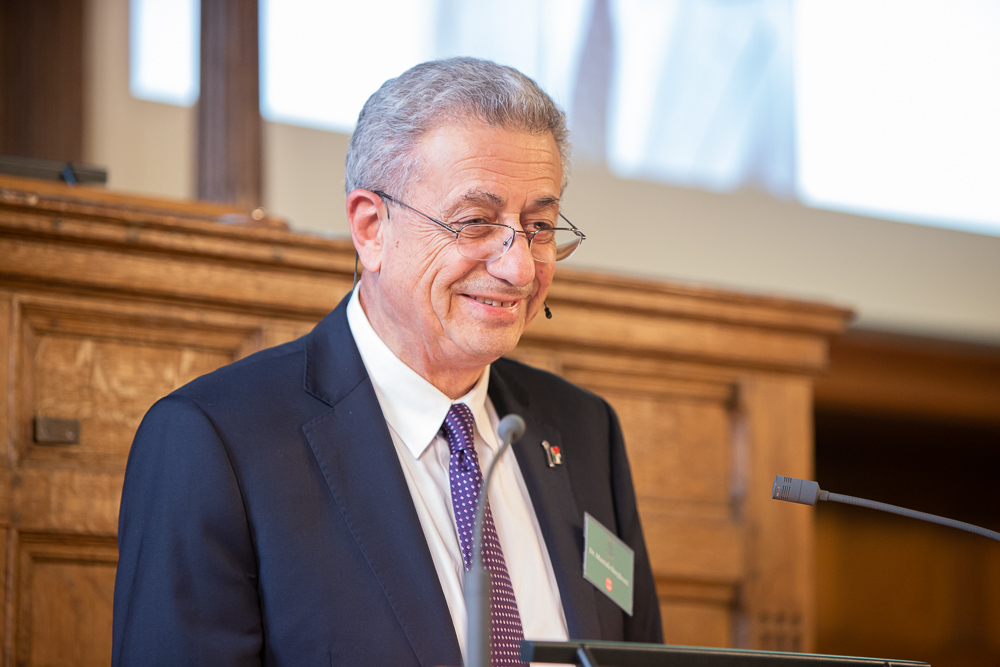 "I am motivated by the belief that Arabs and Europeans still have much to learn from each other, and that once they have come to a genuine understanding they will find that there is room in their mutual relationship for a much stronger and broader cooperation.

Mahmoud S. Rabbani

1994
Leiden, November 21st, 2019
The Lutfia Rabbani Foundation celebrated its 40th Anniversary with a Memorial Lecture to commemorate our founder, Mahmoud S. Rabbani (1934-2002), by Dr. Mustafa Barghouti at the Academy Building at Leiden University moderated by Safiyeh Salehi Mobarakeh.
Dr. Barghouti delivered a lecture entitled "Palestine: Strategic Challenges of the Future and the Role of Europe". Through a captivating and powerful speech, Dr. Barghouti highlighted the challenges facing Palestinians today while shedding light on the role of the international community and partciulalry Europe in encouraging an active democratic Palestinian civil society. He also addressed the need to continue dialogue and further develop mutual understanding between Europe and the Arab World.
Our discussants Mouin Rabbani and Prof. Josette Dijkhuizen focused on the role of Europe and entrepreneurship when it comes to the Palestinian cause. Mouin discussed the opportunities for mutual discussion and understanding between Europe and Palestine given the need for ongoing dialogue and cooperation for exploring questions of peace and justice. Josette continued with providing an example of such cooperation through her project Women4women, an initiative aimed at empowering young female Dutch and Palestinian entrepreneurs while providing them with a platform to exchange ideas and learn from each other.
The Memorial Lecture also witnessed the official launch of our Alumni Network. This network group connects alumni of the Lutfia Rabbani Foundation to exchange opportunities and experiences. One of our older alumni, Amin Amin,  as well as our young Dutch alumni, Nora Stel, were present to share with us their experience as a Lutfia Rabbani scholar, how the scholarship programme influenced their career and how they view the importance of Euro-Arab Dialogue.
Also present was Mrs. Anisa Rabbani. She received a copy of the thesis wrote by Boris Wijmer about the life of Mahmoud S. Rabbani after he shared with the audience the motivation behind his research.
The lecture was concluded with a musical performance by Mozaiek Ensemble featuring soloist Mireille Bittar accompanied by Feras Khouri.
We thank all of you who for joining us in this special and unique celebration of our 40 years of promoting Euro-Arab Dialogue. Today we are not only proud of what we have accomplished since the establishment of our Foundation in 1979, but we also are hopeful and look forward to a bright future of building bridges between cultures through dialogue and exchange!