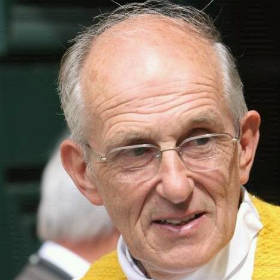 "At the end of every hike… We notice that there is no one not loved". (Father Frans Van der Lugt)
Fr. Frans was a Jesuit priest. He lived in Syria for around 40 years. During his stay in Syria he initiated many activities, one of them was the hike "Al Masseer", which started in Syria in the beginning of the 80's and aimed to raise social and environmental awareness. The hike gathered Syrian people from all the different religions, ages and regions. And many Europeans and people from other parts of the world joined.
Fr. Frans's ministry in Syria changed the lives of many people by introducing them to a new way of life. For many, their experiences with him were vital in becoming who they are now. Through Frans's hike in Syria they found a way to truly integrate with their own people. Fr. Frans remained faithful to the Syrian people, whom he loved deeply, right up to his assassination in the Jesuit convent in Homs in 2014.
What is Frans' hike?
The hikes of Fr. Frans inspired Syrians who left Syria because of the war to continue his initiative and to pass on what they learned from him to people in other countries. The hike is an activity that is beyond politics and religion and it is open to people of all religions, nationalities and ages. Thus, different cultures and nationalities enrich the hike and contribute to breaking down prejudices.
Frans' hike hiking group was established in Berlin on the 7th of April 2015, one year after Fr. Frans' assassination. It has organized six hikes in different regions in Germany since then. It attracted a wide variety of people, mainly young Syrian women and men who came to Europe escaping the war in Syria. The hike offered them an opportunity to meet with other Syrians who have the same problems and concerns. The hike also gave them the chance to meet German people and people of other nationalities. The cultural activities during the hike gave participants of different nationalities an opportunity to meet Syrian culture away from media portrayal about Syrian people.
Who are the initiators of Frans' hike?
Frans' hike was initiated by four people from Syria now living in Europe. In addition to their studies and work, they organized Frans' hike voluntarily. They wanted to share Frans' mission because of the extraordinary experience they lived with him. Their working experience is in the field of project management, social work and public relations. They are supported in their initiatives by the Jesuit Refugee Service Germany.
Frans' hike the Netherlands
In 2017 they organized a Frans' hike in the Netherlands to remember Fr. Frans' martyrdom on the 7th of April 2014 and celebrate his birthday on the 10th of April. It started with a memorial mass in the St Jan Cathedral in Den Bosch on the 7th of April and finish at the Radboud University of Nijmegen on the 12th of April. The walk was joined by 170 people. This event was supported by the Dutch Jesuits, the Vereniging Nederlandse Bedevaarten (VNB) and a team of Dutch and Syrian volunteers and sponsored by the Lutfia Rabbani Foundation.
Via this link you can watch a Dutch documentary on Father Frans in Syria: https://www.npo.nl/kruispunt/06-11-2017/RKK_1661671 .
If you would like to partner with us as well, please contact us via info@rabbanifoundation.org