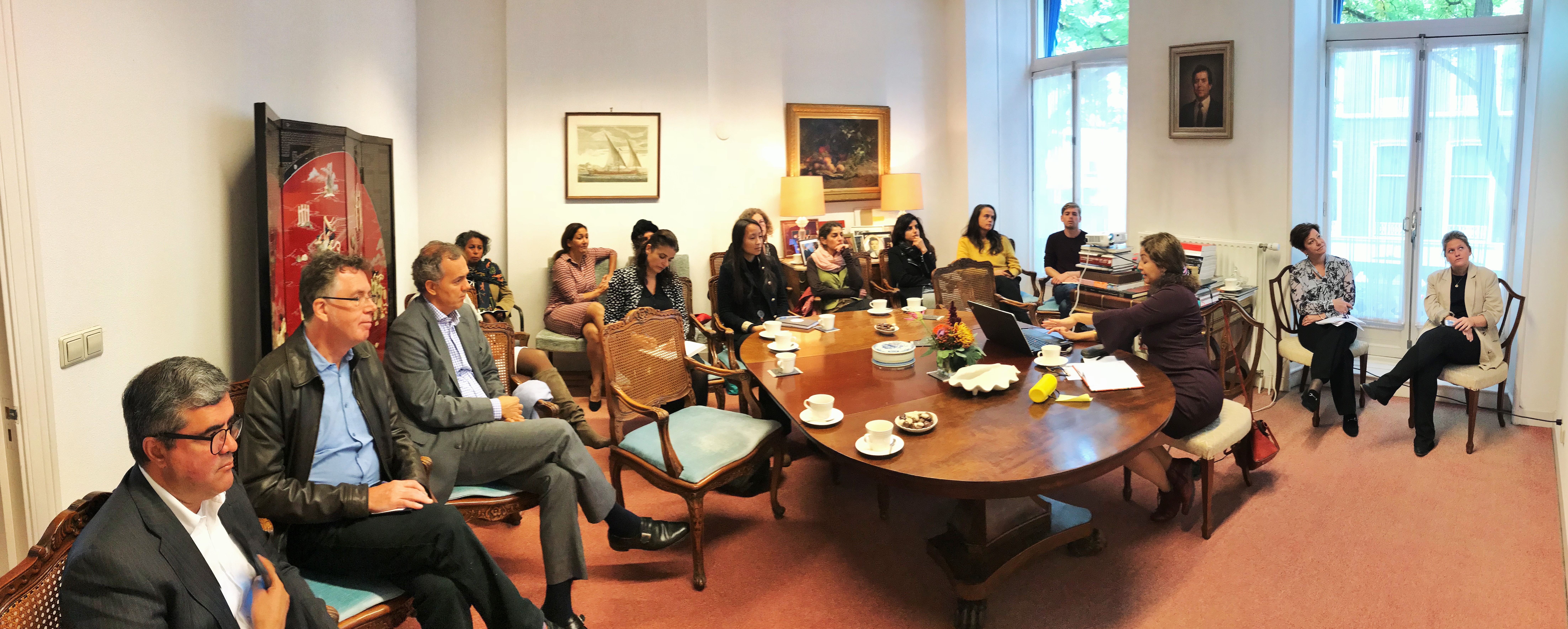 On October 3rd, 2018 the Lutfia Rabbani Foundation hosted the second round table session in our informal discussion series. With an opening speech by chairman Salim Rabbani, Program Officer at the Ford Foundation's office in Cairo, Laila Hourani, introduced the discussion topic of whether addressing migration through Arts and Culture can be a connecting or disconnecting factor.
Laila's grant-making at the Ford Foundation focuses on Arts, Culture and Media. In recent years, it has included support to seeding and strengthening civil society organizations engaged in sustaining the artistic productivity and cultural vitality of Syrians, memorializing the Syrian conflict and providing cultural and art education services to Syrian refugee communities. Before assuming the role of program officer in 2013, Laila worked with the Ford Foundation as a consultant. Previously, she led the development of strategy for the British Council's arts and culture work in the Near East and North Africa out of Syria, enabling cultural exchange between Arab and UK artists in a challenging social and political climate. Over her nearly fourteen years with the British Council, Laila initiated, designed, and delivered projects in performing arts, new writing, translation, creative economy, and cultural leadership.
From 2005 to 2011, Laila sat on the artistic board of Cultural Mawred (Al Mawred Al Thaqafy), one of the leading non-governmental cultural organizations servicing the Arab region. She has also been a board and jury member for other key regional organizations, among them Ettijahat- Independent Culture, the Anna Lindh Foundation's Citizens for Dialogue Program, and the Arab Fund for Arts and Culture (AFAC). Earlier, she worked as a journalist and with UNICEF Syria. Laila published her debut novel, Baoh at the acclaimed Beirut based Al Adab in 2009. Laila studied Russian language and specialized in TV Journalism at Moscow State University between 1988-1994.
The informal event brought together professionals from different sectors and organizations, making it a lively and fruitful dialogue. The Lutfia Rabbani Foundation would like to thank the Ford Foundation MENA Regional Office for enabling Laila to come for the event, Laila for the great insights and presentation and to all attendees whom have made the discussion a success.