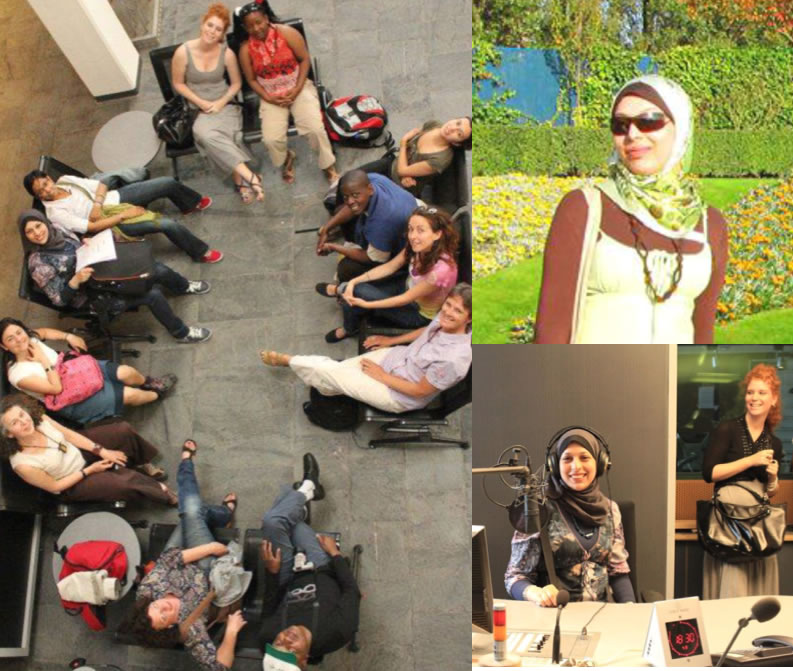 I have a package of forward-looking dreams, and it is a colorful one.
MSR scholar, 2010
I remember the day I was accepted to the Master's program for Development Studies, with a focus on Conflict, Reconstruction and Human Security, at the International Institute of Social Studies in The Hague. I began imagining my journey, daily life, courses, lectures, and even what the campus would look like. When I received the scholarship notification, it said, "We hope that you will act as an ambassador for international justice, peace and security when you return home after your studies." It made me strongly determined to implement that important message and to work hard to achieve positive change in this world. We are all looking for change, and we should all start the process of change ourselves.
The journey from my home in the Gaza strip to The Hague was not an easy one. The complicated visa application process alone caused me to miss the first two weeks of the ISS semester. Leaving Gaza is never an easy process: the day I was supposed to travel I had half an hour to make the cutoff of people allowed into Egypt: restrictions are still very tight and if I had not made it that day, I would have had to wait another month before being able to try again. After a long journey, from Gaza via Cairo and Paris, I reached The Hague.
It was a big change in my life, not just a shift from the warm sunny days in Gaza to the very cold rainy days in the Netherlands, but a transition from the place I was born and grew up to a completely different environment where everything was new. The experience was even more than that. It was, and still is, a different chapter in my life; I gained new knowledge, met new people and made great friends. Of course it was full of deadlines, exams and essays, but it also provided a lot of new information, introduced me to different ways of thinking and made me part of a wonderful social and academic life. I read somewhere that '' the more you know, the more you get tired." But it was different for me; the more I knew, the stronger I felt, the more eager I was to use what I had gained to serve my people and my country.
When I started the course, it involved daily attendance at lectures from 9:00 until 18:00 on most days; however, the number of courses and lectures decreased over time, giving more space to essay writing, various assignments and group work. Now I am working on my thesis, which is supposed to be finalized by the middle of November 2011.
The system of education in the Netherlands very different from what I was used to in Gaza, and therefore I often had to put in extra work. The approach that is followed in my specialization – critical thinking – is useful to all students. Not taking anything for granted is the most significant thing I have learnt.  All information is subject to analysis. As students, we are given the chance to analyze articles and media materials regardless of who wrote them or produced them. The course has given me a golden opportunity to think of how the world is organized and operates, and why certain things are done in a particular ways.
In The Hague, I have met people from everywhere; they have been colleagues, lecturers, activists and friends, as well as "ordinary" Dutch people. Dutch people's hearts are unlike the Dutch weather; they warmly receive you in their country and in their houses. I appreciate the Dutch hospitality. What I am sure I will also miss once I go back to Palestine-Gaza is the weather here. I have a strong relationship with the rain, which has been persistent during my entire stay here. When I am in Gaza, with the temperature at 35-40 degrees, I will remember all the time I have spent walking along the canals in the rain. In addition, I will miss cycling in the city and around it; my bicycle rides will comprise a big share of my memories, truly!
Before coming to the Netherlands I was working in different programs targeting the groups in Gaza that are the most marginalized and that suffer the most. Now, while studying, I keep the image of the Palestinian people in my mind and imagine how I can use what I am learning in an optimal way to improve their lives and to better the overall social and economic situation in Gaza specifically and in Palestine generally. I am yearning to go back and be an agent adding value to ongoing projects and programs, and to participate in new initiatives for fighting the injustice, conflict, hunger, and poverty there.
This opportunity has enabled me to become familiar with European culture and to understand that we have similarities as well as differences. While making this journey, the goal of The Lutfia Rabbani Foundation – "to foster mutual understanding between Europe and the Arab World through education and cultural exchange" – was embodied in every one of my steps. With those steps, my understanding of diversity has deepened, and my thinking and analytical tools have been improved. I can now analyze and discuss issues from different points of view, but the most important things that I have learned are to reference my point of view and to respect others' views.
I have a package of forward-looking dreams, and it is a colorful one. I know that the reality is grim, especially in areas like Gaza, in which instability is the normal pattern of the life. However, I motivate myself with my dreams. Having an MA degree was one of my dreams and it is just about to come true. So I believe that the future will be better. All that we need is optimism and belief in ourselves. I believe in young Palestinians' ability to make their own future brighter, better and full of justice and freedom.  I am one of those young Palestinians, and I will continue the journey of 'change' towards a better future along with my fellow youths.
Wala'a Shehada
The Hague
August 28, 2011