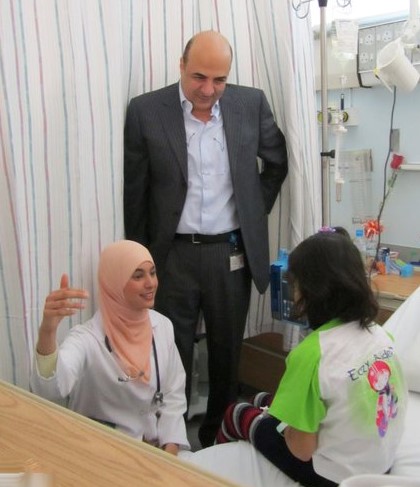 My medical internship in Qatar
Travel scholar, 2010
Qatar? Indeed, Qatar! The country of hope and glory. This astonishing country is known today for its wealth from oil and gas, its high rise buildings and most recently as the host of the 2022 World Cup. An island situated next to Saudi Arabia in the Persian Gulf close to the United Arab Emirates, Qatar is four times as small as the Netherlands. Ruled by an Emir, Qatar is the wealthiest country in the Arab world and has one of the fastest-growing economies worldwide.
It has always been my dream to visit the Arab World, but when this dream became a reality, I suddenly felt anxious and doubtful. I began to wonder whether this was really a good idea and how my experience would be.  What would 45 C° and 90% humidity feel like? However, I was sure about one thing: this idea was going to be a great adventure that no Lonely Planet or other travel book could describe. My 12-week internship in the pediatric ward in the Hamad Medical Hospital in Qatar was about to begin…
The Hamad Medical Coorporation is one of the largest Medical Centers in Qatar. The government invests heavily in public health with the aim to provide the Middle East's top medical service within five years. One key criteria to meet this goal is to recruit only the best people!
The first week as an intern was more difficult than expected.  Not only did I have to get used to the daily rhythm, the different culture, the long working hours and the English/Arabic languages, but the depth and breadth of the skills the medical students and junior doctors had exceeded my expectations. There was very little distinction made between 'students' and 'residents'. A student needs to take just as much responsibility for his patients as a full resident. Once you're wearing a white doctor's jacket, you are treated as a doctor and required 'to be' a doctor.  No discussion!  I was Dr. Nassira and was required to provide an update on my patient!
My working week in the hospital started on Sunday and ended on Thursday from 7 am till 3 pm. Every day there was a round of three different teams – team A, B and C. Each team consisted of 11 persons – a specialist, a specialist from abroad who was working their way in, three senior medical residents, 3 junior medical residents and 3 students. Every week I got a new patient and each patient was discussed through 'bedside' teaching almost every day.
The residents and students are on call for 36 hours every fourth day (including weekends).  When a doctor is on call on Monday morning at 7 am, they don't finish their shift until Tuesday at 3 pm the next day and are on call again for another 36 shift on Friday. This means that an average work week is 80 hours with only one weekend off each month. This sounds very hard and difficult, and indeed it was, but I never heard anyone complain. Everyone did what was asked of them with no questions asked, which was a very rewarding feeling. Even though I really had to get used to the hospital at first, I felt comfortable with the people around me. Not only were the doctors extremely friendly, they were also helpful, and interested in my (medical) life in the Netherlands. The patients, too, were appreciative and grateful.
Together with my fellow students, we were assigned to Team B, the team of Dr. Ashraf Adel. Dr. Ashraf is a 50 year old Egyptian senior consultant in General Pediatrics at the Hamad General Hospital and Assistant Professor of the Weill Cornell Medical College. He is a humorous and brilliant doctor with a big heart, and seemed to know everyone! Dr. Ashraf is very popular with the Royal Family and other VIPS patients.  He and his wife arranged to have us invited to the Sheikh's palace for dinner on several occasions. We also received an official invitation to attend a royal wedding of the Sheikha and the son of the Interior Minister of Qatar, which was definitely one of the most amazing and bizarre experiences during my stay in Qatar, if not in my whole life!
Now, looking back at my stay in Qatar, I realize that I have gained an enormous wealth of both personal and medical experience in three short months. I found that there is something very special about sharing the lives of people from places all over the world, no matter whether they're a nurse, a doctor or a sheikh. We are not as different as we may think, because at the end of the day we are all the same people who simply want to make the most of our lives.
All in all, I'm convinced that there are many advantages as a result of this internship. Not only did I gain new medical skills, but I also learned about new cultural and religious aspects of life from my colleagues and friends. This experience, I felt, really fostered mutual respect. It is with joy and gratitude that I remember the great love and hospitality of the people in Qatar, who definitely made my stay a rich and enjoyable experience. Our hearts will remain close to one another.