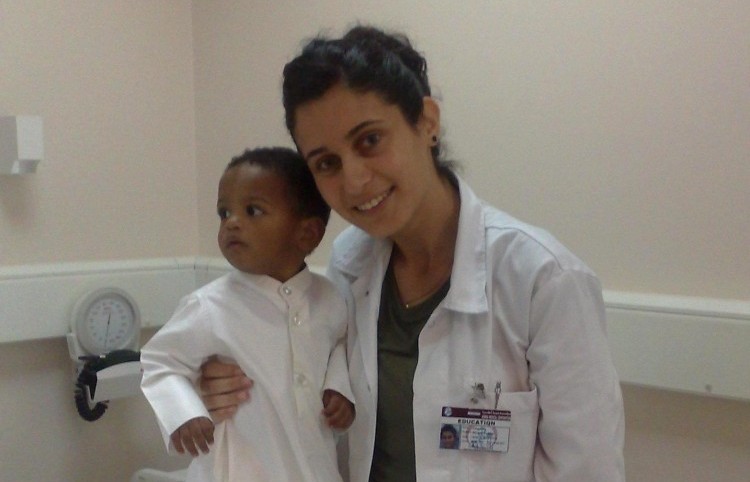 A Fairytale Internship in the Pearl of the Gulf
Travel scholar, 2010
Aytac Koca participated in a 12 week internship at the Hamad Medican Hospital in Doha, Qatar, in 2010 with a 1500 euro travel scholarship. Below are a few excerpts from the recount of her travels.
"The Middle-East has always attracted my attention for its history, culture, people and hidden treasures. I didn't want to follow the well-trodden path of popular student destinations and find my own way instead.  My life as a medical student started in Hamad Medical Hospital in Doha, where I was spent 12 weeks working at the department of pediatrics. The team itself was made up of about 20 specialists and 74 residents, as well as countless medical students. I was incredible to see all those professionals, a community made up of different ethnicities, races and cultures, all working with one thing in common: saving people's lives."
One event that I don't think I will ever forget was the royal wedding I was able to attend. As we arrived, all I saw were luxury cars.  All women coming out of them were dressed in their abayas, and therefore completely covered. Everybody looked exactly the same; all I could see was a huge sea of black robed figures walking towards the entrance of the hall. We passed through a security point and were told that taking photos was strictly prohibited. At first, I couldn't understand why, as everyone look the same anyway. However, was we entered the inner area, I was stunned by the transformation that had happened seemingly instantly. All the black garments came off and underneath everyone around us looked like Hollywood stars. The whole night can only be described as one big fairy tale, and I remember wishing desperately that I could take pictures. Eventually, I let it go and decided to make the most of the party by enjoying the splendor around me and trying to remember as much as I could. It truly was a night never to be forgotten!
When I think back of my time spent in Qatar, I can only say that it was a wonderful, educational experience that caused me to grow both personally and as a medical student. I know now that a place is never just about the landscape, but that the people give it the special, unforgettable energy that really makes an impact. Studying only teaches you so much and it is daring to cross your borders and expand your horizons that make a difference. In the end, the only regrets we have are the chances we didn't take.
"The world is a book, and those who do not travel read only a page."