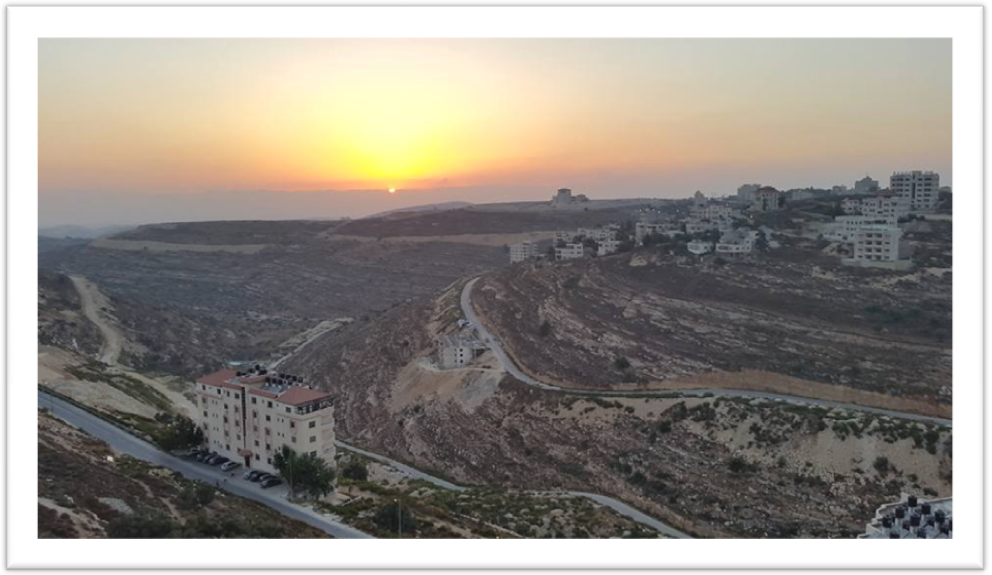 Punitive home demolitions in Palestine
Travel scholar, 2015
Anke van der Meijden, master student International Crimes and Criminology.
I started writing this blog more than twenty times. First, I only wanted to write about the positive things I've experienced in Palestine. The hospitality of the people, the culture and the amazing things I saw so far. But, reading my diary I realise that every day my emotions and my thoughts changed from positive to negative. Hence, in this report I will try to summarize what I did in Palestine with help from the Lutfia Rabbani Foundation. I will start to introduce myself and my research. After that, I will summarize how my research went and shortly discuss some of my results.
Introduction and motivation
My name is Anke, I always describe myself as a typical Dutch girl (yes let's stereotype). 23 years old, born in one of the smallest towns in the Netherlands, called Puiflijk. I finished my Bachelors in Criminology last year. Now I study International Crimes and Criminology, which focuses on war crimes, genocide and crimes against humanity. My entire life I have been interested in things that the average people rather not know. I frustrate people with my stories about cruel and inhumane crimes, but I simply cannot stop.
I went to Palestine before, and seeing the daily struggle of the Palestinian people left a deep impression on me. Once you see what is going on there, you simply cannot let go. One of the many things that immediately caught my attention was the policy of home demolitions. My home is one of the important places my life, a place where I feel safe and intimate. I cannot imagine what a home demolition does to you as a person, and to your family.
I decided to write my master thesis on punitive home demolition. What I mean with punitive home demolition is that a home is demolished as a punishment for a crime, by military commanders. When a person commits a crime (a severe crime) the house he/she lives in can be demolished, the other people living in these homes are not compensated and lose their house. Frequently the home demolition is carried out without prior notice. Why I decided to write specifically about this topic, is because a home and a family are universally seen as of great importance in most cultures. Investigating domestic spheres and the demolition of this intimate cornerstone of families is conceivable by all of us.
Start of my fieldwork
My research question is: What are the consequences for the victims of punitive home demolitions in the Occupied Territories? In order to answer this question, I had to find as much information as possible on home demolition as a punishment. Gradually it became apparent that I had to travel to Palestine to interview victims of home demolition, while research into the consequences of home demolitions was not yet conducted .
I started with contacting my friends, acquaintances, international organizations and NGO's in Palestine. While I visited the West Bank earlier I had some contacts but making official appointments seemed difficult. A few times I was thinking that I had to adjust my ambition to conduct empirical research.  Hence, most of the people that had experience in researching in the Palestinian Territories said: '' Once you're here, you'll be fine''. And in secretly I knew that was true. Once I heard I received a scholarship I decided to just take the risk and fly to Palestine.
When I arrived in Palestine, it seemed to be true what people said, contacting people in the West Bank got a lot easier. I was lucky to have friends who helped me with transportation, a phone and housing. I rented a student flat in Ramallah. The great thing is that I woke up positively every day. This is because of my friendly Palestinian roommates. My roommates were smiling 24 – 7, introducing me to great people and places and help me if I am totally lost. And I am lost every day, ha-ha. After a few days settling down, I decided to just visit NGO's and ask for their help.
Ramallah (the city where lived) is literally a hot, cramped and full city. Markets full of clothes and fruit and even the smallest and unnecessary things are sold. The people walk in the middle of the street and cars hoot all the time (they cannot move because the centre is so full). I expected more people to speak English, which most of the people here actually don't. The only thing I heard 1029123 times was Welcome to Palestine (the only thing people can say in English). I cannot explain how Palestinians are, and I am not the only one who loves the people here, even though we don't share many beliefs or cultural habits. The smiles, the laughing, the Arabic sound, the screaming, fruits, falafel and people chilling in the middle of the street.
The research
Thirteen families agreed to talk with me. The families' houses were demolished because family members were fugitives, or committed or were suspected of certain crimes. While I do not speak Arabic, the questions were asked in English, and then translated by the translator in Arabic. The respondents were interviewed according a topic list. I tried to let the respondents talk as freely and as much as possible. Each of these families have their own story, with an intense history. I found it emotionally intense, and most of the stories were complex. But, most of the families were so welcoming, friendly and open.            

After the interviews two groups of home demolitions can be distinguished these are ordered and not – ordered home demolitions. In the first group, the families received an official order before the home demolition. This home demolition order was signed by the families and the Israeli forces made sure family-members were aware of the coming home demolition. The un-official home demolition was not ordered and no paper was seen. Israeli forces appeared at the house at any given moment and started demolishing the house. In both the official and the un-official home demolition cases, the appearance of the soldiers was sudden, while no warning was given before the forces appeared.
Results
'' Every day we talk about what happened, every day, about the specific details. It is something difficult to forget, I grew up in that house''.
After the interviews, a lot of data was collected. People endured consequences on several levels. The consequences that were found were: economic consequences, family relationship consequences, health consequences, neighbourhood consequences and consequences in school/work. These will not be discussed because of the length of this story. A part of the results of psychological consequences will be discussed shortly.
As is said before, some families' houses were partially demolished, whereas other were left with nothing.
Respondents claimed to have several psychological consequences. In the next figure the frequencies of mentioned psychological consequences are displayed.
Psychological consequences of home demolition.
Firstly, in eight families being scared is mentioned, especially children seem to fear soldiers and loud noises. People claim they endure stress, which they claim lead to shivering, and passing out. As respondent x claims:
'' I suffered at night, I and my children too couldn't sleep at night. They were horrified that soldiers will come (…). Even now we are still suffering. I cannot sleep before 2 am, because I think the soldiers come.''
For example people claimed to relive the home demolition daily, as a person from family x argues:
'' Every day when I wake up I see the shots of the guns. I really hate the Israeli soldiers''.
Besides this, children started sucking thumbs, or stopped allowing breastfeeding. In three families children started to wet their beds. Some children started changing their behaviour. As respondent x claims:
'' (My son) was only seven years old. Started refraining from everything. The teacher said: your son is starting hitting other boys, in the past he was polite''.
Conclusion
This is a short example of the results I gathered, I will finish my Master Thesis next month. If anyone is interested, you can always contact me via email: a.a.l.vandermeijden@gmail.com.
First, I would like to thank the Lutfia Rabbani Foundation for helping me conducting this research. Thanks for the interest, the support and the help I received. I am eternally grateful, because without your help I was not able to do this.
A last statement I would like to make is that I have sadly experienced that visiting Palestine surprises a lot of (Dutch) people. With this story I would like to show that that even though cultural, linguistic and religious differences, conversations and research can enhance our knowledge. Listening to other peoples reasoning will reduce radicalism and promote understanding. I would like to show that people with other cultures or beliefs are not our enemies, and that ordinary student like myself can accomplish little steps forward to intercultural understanding.